Your Source for Custom Designed
Industrial Air-Cooled Heat Exchangers
FIN-X, Inc. is a manufacturer of professionally engineered, custom designed, heavy-duty industrial air-cooled heat exchangers.

When you order one of our heat exchangers for your custom application, you can be sure it meets all of your requirements - and more. Because careful attention to your order is by design, not chance.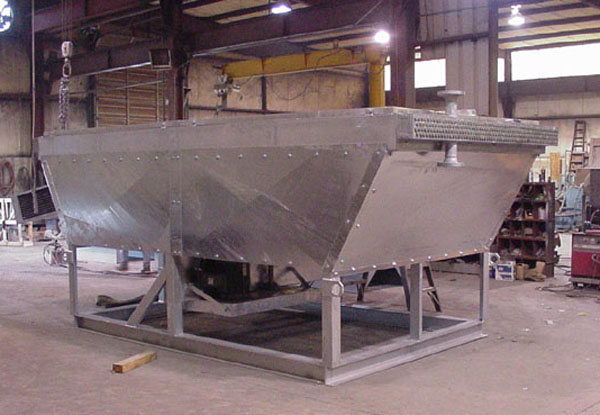 FIN-X equipment is designed to withstand every type of operating condition, including onshore, offshore, arid and unusual climates.
Air coolers from FIN-X meet "ALL" ASME code requirements and can be built to API661 and applicable TEMA specifications.

Our computer programming capability, quality construction and reliable production scheduling allow us to meet your most demanding performance requirements.
All FIN-X air cooled heat exchangers have the following:
STANDARD FEATURES:
All steel construction
Angle base, mechanically-bonded aluminum fins on 1.0", 0.75" or 0.625" OD tubes
Horizontal or vertical air intake and discharge
Electric or hydraulic motor or engine-driven fans
Balanced aluminum fans designed to reduce horsepower
Box-type headers with access plugs
Inlet and outlet connections: flanged, threaded or stub-end
Mechanically hand-tool cleaned and full primer coat on headers and structural steel
Completely packaged, ready to mount.
OPTIONAL FEATURES (upon request):

:
ASME code stamp, National Board number, Provincial CRN, ABS certification, or other special registration available
API661 construction
Radiographic, Ultrasonic, Mag-Particle, or other special inspections
Hot-Dipped galvanizing or other special coatings of structures and sections, including special coatings for finned tubes
Manual or automatic shutters
Galvanized hardware cloth or "soft" nylon bug screens
Hot air recirculation systems
Tubes of admiralty, stainless steel or other specialty metals
Stainless steel headers
Oil field type skid
Mounted surge tank
Special fan drive arrangements
Coils for natural convection or air duct mounting
Hydrotest charts, noise and vibration testing
Flushing oil sections
Special fin types available upon request
Field-erected units (field erection by others)
Header designs for special and/or severe applications
Our experience and expertise in thermal and mechanical design, plus an equally talented work force of ASME welders and other craftsmen that assures your needs will be met.
FIN-X, located on a sixty-acre site in the Tulsa suburb of Owasso, Oklahoma, was incorporated by the State of Oklahoma and began operations in 1979. Our manufacturing plant covers over 45,000 square-feet and can handle your order, whether it's one of our standard units or a custom design.
Experience You Can Count On!

Professionally Designed and Built for Any Environmental Challenge!!